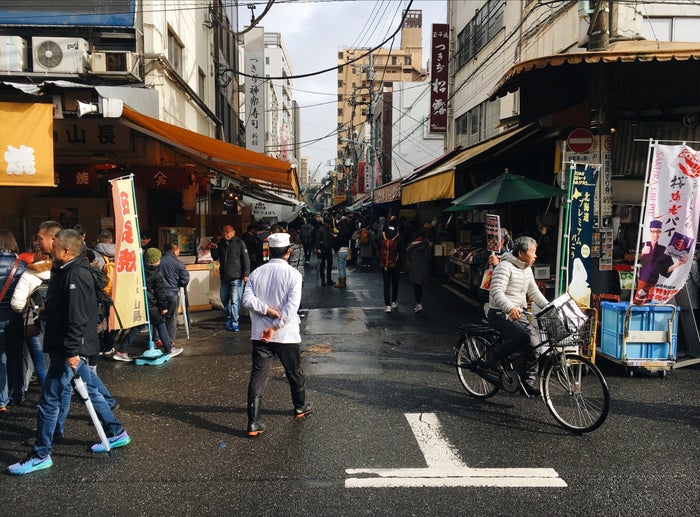 This post contains references to products from one or more of our advertisers. We may receive compensation when you click on links to those products. Terms apply to the offers listed on this page. For an explanation of our Advertising Policy, visit this page.
Where can your points and miles take you? For Seattle-based restaurant owner Brian Canlis and his leadership team, it's all around the world.
His restaurant, Canlis, is an iconic fine dining establishment that has been in business for more than 70 years and has been passed down for three generations.
But this restaurant should never be mistaken as being antiquated or dated. Canlis and his team are constantly brainstorming and iterating on ways to take Canlis to the next level. Part of that has been through travel.
"For a Christmas gift one year, we wanted to give our team education and experience," said Canlis. "We told them, 'You can go to any restaurant you want in the world for dinner. We're going to pair up into teams of two, and you have 80 hours to get there and back."
Now, many of these gourmet jaunts are booked entirely with the company's points. Each year, Canlis and his team travel to a new destination to enjoy a night at a top-notch immersive dining experience in foodie destinations. We're talking Noma in Copenhagen, Denmark; Mingles in Seoul, South Korea; and Den in Tokyo.

According to Canlis, these trips have been transformative for his team, allowing them to come back fresh-minded and to report on what they've learned, as well as helping them to think more creatively about how to elevate the fine dining experience at Canlis.
I interviewed Brian Canlis on how they bring these trips to life for their staff, and how the millions of credit card points they have amassed have helped them do so.
Hiring an in-house 'Points Guy'
When it comes to points and miles, there's one thing we can all agree on: It takes a lot of time and effort to understand the ins and outs of using credit cards and points programs to your advantage. That's why Canlis has designated his very own in-house "Points Guy," Kwan Lui. He manages the restaurant's entire credit card spending and points balances.
"These trips weren't cheap. Before we started using points, we were spending more than $20,000 per trip," said Canlis. "But one day, Kwan came up to me and said, 'Next year, I think we can do these trips entirely on points.'"
In order to accomplish that, Kwan got the team at Canlis to use cards exclusively from the Chase business card trifecta: the Ink Business Cash Credit Card, Ink Business Unlimited Credit Card, and Ink Business Preferred Credit Card.
But you don't have to be an expert to learn how points and miles can take your business to the next level. By using all three cards, business owners can take advantage of each of the card's unique rewards rates to be able to earn thousands — and even upward of millions — of bonus points every year. Let's take a look:
Card
Annual fee
Sign-up bonus
Earning rate
Ink Business Cash
$0
$750 bonus cash back (or 75,000 points) after you spend $7,500 on purchases in the first three months from account opening.
Earn 5% cash back on the first $25,000 spent in combined purchases each account anniversary year:

At office supply stores.
On internet, cable and phone services.

Earn 2% cash back on the first $25,000 spent in combined purchases each account anniversary year:

At gas stations.
At restaurants.

Earn 1% cash back on all other purchases.

Ink Business Unlimited
$0
$750 bonus cash back (or 75,000 points) after you spend $7,500 on purchases in the first three months from account opening.
Earn unlimited 1.5% cash back on every purchase.
Ink Business Preferred
$95
100,000 bonus points after you spend $15,000 on purchases in the first three months from account opening.
Earn 3 points per $1 on the first $150,000 spent in combined purchases in the following categories each account anniversary year:

Shipping purchases.
Internet, cable and phone services.
Advertising purchases with social media sites and search engines.
Travel.

Earn 1 point per $1 on all other purchases.
Although the first two are cash-back cards, your cash back can turn into Ultimate Rewards points when you combine your award balances with that of your Ink Business Preferred account. When redeeming your points for travel, Ultimate Rewards points are worth 2 cents each, according to TPG's valuations. Therefore, if you can reach the spending requirements on these three sign-up bonuses alone, you're looking at 250,000 points — worth a whopping $5,000.
From there, you can be strategic about earning points based on bonus categories. Naturally, Canlis and his team will maximize the 5x and 2x earning categories (and their maximum spending limits) on the Ink Business Cash and the 3x on the Ink Business Preferred. At the same time, all other purchases will go on the Ink Business Unlimited to earn 1.5x, with uncapped earning potential.
All three cards let you add employee cards for no additional fee, allowing you to earn points even faster.
"We have cheat sheets on our desks to help us understand what card to use to pay for certain expenses," said Canlis. "Our employees are incentivized to put things on the right cards so that we can earn enough points for our annual trips."
Not all expenses go on the credit cards

For most business expenses, it was as easy as switching from paper checks and debit cards to credit cards. However, Canlis was initially worried since credit cards are typically frowned upon in the restaurant vendor world, with some merchants refusing to accept them.
"The other thing I was afraid of was, well, don't people want checks?" said Canlis. "Like if I were to call my linen company and ask to pay with a credit card instead, aren't they going to be bummed by me? The answer is, no. Many vendors were more than happy to switch over and accept credit cards since they get the money so much faster, and there's no pain of processing checks."
Today, credit cards have become the norm, though processing fees may deter vendors from accepting them.
"I do have some small farmers who would prefer that I don't use a credit card, in which case I have no problem doing so," said Canlis. "It's a conversation we want to have with each vendor if they're okay with credit cards, and we have no problem writing a check to those who prefer that instead. It's not worth hurting relationships over earning some points."
Spending breakdown

Although Canlis has been operating for decades, the team switched over to using credit cards in 2015. Here's a breakdown of their estimated spending:
Food: Canlis uses 30-plus vendors, most of whom accept credit cards.
Bills: From utilities and legal counsel to business insurance — which racks up $60,000 in spending per year alone.
Dry goods: This includes to-go containers, paper towels, toilet paper, restroom towels and more.
Merchandise: Last year, Canlis spent more than $100,000 on merchandise to resell to guests.
Linens: Everything from chef coats to tablecloths, napkins and aprons.
After reviewing these expenses, you can only imagine that these cost hundreds of thousands of dollars every year. By using cards that offer bonus points on some categories (while using the Ink Business Unlimited for non-bonus purchases), the value of using credit cards shines.
Booking around-the-world trips

Using points and miles to book the team's "Around the World in 80 Hours" trip has helped Canlis and his team upgrade when available — think business- and first-class flights and five-star luxury hotels. This has even allowed them to expand their culinary options on trips abroad.
"We got to visit nine restaurants in Tokyo instead of our usual one-and-only because we could justify spending more since we used points for our other travel expenses," said Canlis.
The Chase Ultimate Rewards program offers many redemption possibilities but know that you won't get value when merely redeeming your points for cash or gift cards. Chase allows you to transfer your points to 11 airline and three hotel loyalty programs at a 1:1 ratio — where the real value shines. Once you get familiar with the Chase Ultimate Rewards transfer partners, you'll start to find the sweet spots, allowing you to save thousands of dollars on travel.
"For example, the Park Hyatt in New York City gets to be more than $1,000 per night sometimes," said Canlis. "But you can transfer 30,000 points [to Hyatt] and get a sweet ratio. That's like, 5 or 6 cents per point."
That's why business credit cards that earn points and miles toward travel rather than cash will almost always be a better deal, especially for a business that spends thousands of dollars for these annual international trips.
Bottom line

Points and miles have done wonders for Canlis and his restaurant. Even during such a difficult time as the pandemic, his business still amassed more than 3.8 million points last year, allowing them to start traveling again without breaking the bank.
"We have this wealth that's not congruent with our bank accounts," said Canlis. "We were in the midst of hiring our seventh executive chef in 70-plus years. You can't hire a chef over Zoom, but we had points. So, we flew our new executive chef — who lived in Thailand at the time — and her partner all the way out to Seattle, and put them in a suite in the Hyatt for an entire week. That's the kind of wealth that allows you to make bold, creative decisions that are helping my company."