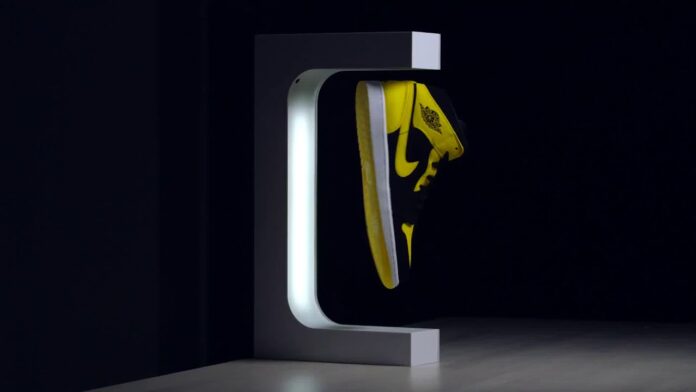 Some shoes are just too precious to keep them locked away, hidden somewhere in the closet, and worn once or twice a year. Some shoes are meant to be flaunted and flexed over. For this exact same reason, a levitating shoe display has been floating around in big e-commerce stores as well as in authentic physical stores.
This article will clear your confusion over what a magnetic levitating shoe display is and what exactly it is used for. If you're planning on buying one, you can also get some advice on what features should a levitating shoe display have and what features are essential to look for. Browse through the article to learn about this innovative display case!
What Is a Levitating Shoe Display Case?
A levitating shoe display case is a lightweight C-shaped frame open from one end. An electromagnetic current system is installed into this display which makes your precious sneakers suspend in the air. You simply have to insert a strong magnet into the heels of your kicks which will help them in floating. You can also rotate them easily at any angle, and LED lights are used in the frame to illuminate the shoes. In addition, it can even adjust a shoe sized 13 US.
What Features to Look for In Levitation Display Case?
Following are some of the features that combine together to make up a sick levitating shoe display.
Built-in powerful LED Lighting
The closed side of the C shape has an in-built LED light installed into the frame. Mostly this light features a white color, but you can also get RGB lights which can make your kicks like something out of this planet. This lighting is very strong and powerful to help the spectator examine the intricate pattern and details that are highlighted in the shoe.
Built-In Fan and Rotating Capability
There is an in-built hidden fan in the case frame, which features a small hole. As air keeps on passing through this hole, the shoes are able to glide flawlessly in the air. Because of this, you can rotate the shoe at a 360-degree angle and look at every aspect possible.
Magnetic Levitation
Because of this magnetic levitation feature, the shoes are able to flat elegantly in mid-air. Ensure that the magnetic field is strong enough to support heavy-soled shoes. This unique technology makes your display incredible and more attractive.
Frame options
Since there are unlimited shoe collectors and infinite shoe types, you can get some options in this display case too. The first option is the choice of a single or double display case. Finally, you can choose between the different color options in the frame to ensure that it will complement your footwear.
The Bottom line
Show off your limited-edition kicks like they deserve to be shown off to the world. Turn your shoes into a piece of art by decorating them in a futuristic way. In this case, this levitating shoe display case will fulfill your dream by letting you exhibit your precious footwear in the most unique and exciting way possible. You can have an option of a single or double display case, as well as a color option in the frame. Grab these for yourself, too, and turn your favorite shoes into something picturesque!